Some  may be lucky to be born with beautiful skin and other's are not and that includes me.  It's always my desire to have smooth and fair skin but blame it on the genes or the late sleep i have to make each day.
Sometimes, i hate to look at the mirror and see those pimples and black heads. I have tried several facial cleanser and cream but either i get irritation  or the problem keeps on coming back.  Although i may not say all of them,there are some of which i have tried that is really beneficial to me and until now, i am still using them.
But when I get a chance to check out a set of beauty products,  imagine my thrill.   I have always favored organic and natural products and Seabuck Wonders beauty and vitamin is truly worth having.
The sea buckthorn seeds which these products came all the way from the Tibetan Himalayas is known to be a great source of Omegas 3, 6, 9 and Omega 7 , essential components that is vital to collagen production for us to have beautiful , healthy skin, nails and hairs.  Even the famous Dr. Oz recommends  and favored Sea buckthorn oil over juice stating that it is rich in antioxidants , essential amino acids , vitamin E, rare Omega 7 and 190 other bioactive nutrients. (source – seabuck wonders site)
Seabuck wonders are USDA certified organic products. It offers to preserve our youthful beauty and a remedy to fight those fine lines and wrinkles that is coming more visible in my eyes and face and for over 20 years, they have offered supplements and beauty products with highest concentration of sea buckthorn and omega 7 to give better results.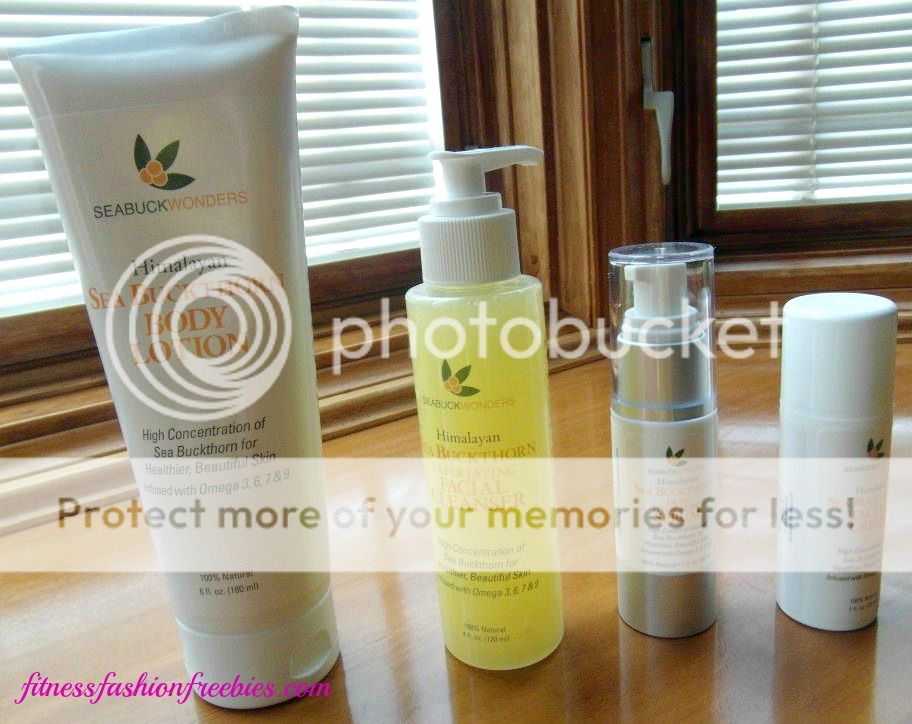 I got to try their Sea Buck wonder pack which composed of one bottle of each product;
Sea Buckthorn Omega-7 Complete™, 60 Softgels
Sea Buckthorn Body Lotion
Sea Buckthorn Facial Cream
Sea Buckthorn Facial Cleanser
Sea Buckthorn Hydrating Serum
Just like any beauty regimen, it's ideal to take them all together to achieve what we always wanted and that's acne clear and beautiful glowing skin.  I love how the smell, it's light and you can feel the sweet breeze of the himalayas on every bottle. Sea buck Wonders offers to moisturize your skin and repair them.  Just like any products, visible result comes after continuous use which i am very much willing to do. Sold at $99.32, i believe that this product is worthy of your money.
I can't wait to see the result to you,  Will let you know after a month of continuous use.
SEA BUCK WONDERS can be bought from supplement stores but you can also purchase from their online site which gives you less trouble and big benefits to our carbon footprint.
Buy the products on their online site  –  Follow them in Facebook  – Re-tweet 
And here's the great part. Beauty Wonders agreed to give one of my lucky reader a chance to receive and try this collection.  Lucky indeed, so do come back  because the giveaway will come pretty soon.