Our bathroom plays an important part in our home.  Honestly, it's the place I find solace and relaxation.  Sometimes, creating the perfect bathroom seems hard if you don't know where to start and you have a limited budget to begin with the re-modelling or reconstruction.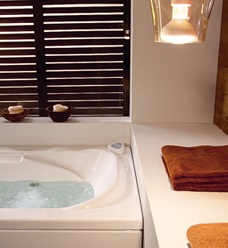 Adequate light is very important to create a good ambiance for your bathroom, a themed bathroom might be a perfect choice to create a luxurious look without spending too much. 
You must also consider some ideas on how you can create your perfect bathroom by starting on choosing a theme or color design you wanted for your walls and your interiors.  Cabinets can give a good storage and plants are a good to give positive energy as well to create a nice ambiance on your bathroom.
If you are planning to have it DIY, you need to consider things needs to purchase and the type of vanities you want to create on your room.  If you have a small bathroom, you can put some big mirrors to create an illusion which can make your bathroom look bigger but then, be extra careful that this are placed perfectly on the wall to avoid future accidents.
Slippery floor is a big problem in every bathroom, so choose tiles that are semi-rough.  Lighting can do wonder, so make sure to maximize day light. Customized bathroom accessories is also a great addition to create that perfect bathroom you have been dreaming of.