They say that when we were born we are connected to a force and the nature around us does we have our equivalent zodiac sign as well as birthstones.  Birthstones origin were believed to be originated during the time of Aaron representing tribes of Israel.  The birthstones we knew today were created as symbol and for some it's a guide and lucky talisman with healing or making our life happy and fruitful.
I for one believe in the benefits of this stones.  I know that because it comes from the earth, it has a power to attract positive vibes and who wouldn't want such good riddance?
I was born in February and amethyst symbolizes piety, humility, sincerity and spiritual wisdom, Amethyst also  helps overcome fears and cravings. It also helps relieve headaches.
With my love of handmade creation, I chance upon Delezhen Handmade Jewelry collection in Etsy.  Masha, the owner is a passionate and very accommodating lady who creates handmade accessories that you would surely love.  Her creation of birth stone necklace is indeed lovely and interesting too.
This amethyst necklace comes with a 16k gold plated hand stamped leaves which can be personalized with your own initial, mine is RIA since it's my nickname but you can choose to have up to four initials.  The stone is bezel set in 925 Sterling silver with a heavy layer of 18k gold.  It was also  wrapped in a Delezhen branded box.
I love it's simplicity and creativeness and most of all, it's really eye catching and truly worth keeping.  It looks like the vintage piece of jewelry my grand mother gave me, very eloquent and piece of heirloom that can be preserve for a long time.   A piece of jewelry that will not lose its beauty even with everyday use, something you can even pass to your own daughter.
It's a perfect gift for someone so dear to you, perhaps your mother, your daughter or your best buddy. Or perhaps if your about to get married, this is a beautiful gift for your bridesmaid or even your entire entourage if you can afford it.
 The necklace comes in gold and silver and has a chain that has a pearl near the clasp which added more beauty.
Buy them here:
If your looking for high quality and beautiful pieces of handmade jewelry,  head on today at Delezhen Etsy Shop. If your a fan of their Facebook page, you can receive a 10% OFF Coupon Code .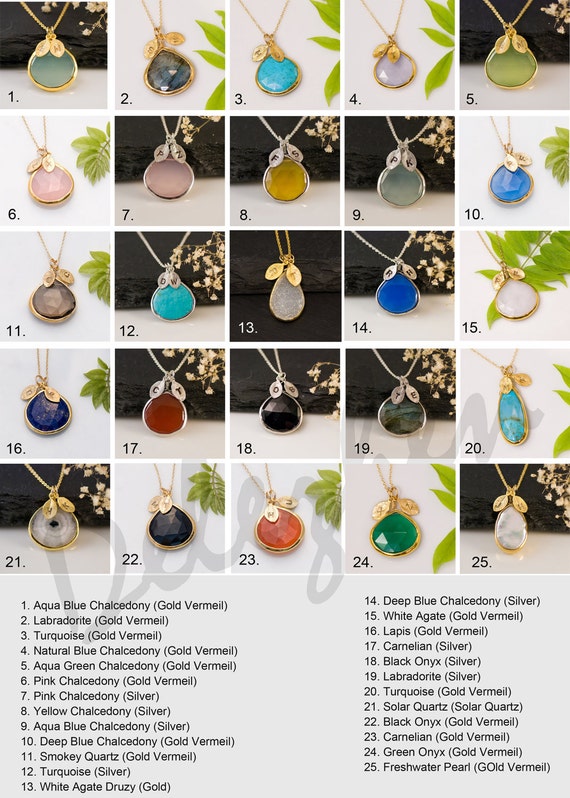 Get them for free: 
Now, here's the best part.  Delezhen is very generous to offer my lovely readers a chance to get their very own birthstone necklace with your own initial hand stamped on the pretty leaves.
ENTER HERE TO WIN YOUR VERY OWN BIRTHSTONE NECKLACE 
other reading : crystal-cure.com, wikepedia