There are many reasons why you need to have your own veranda or green garden in your house.  It is not just a beautiful sight for you or your visitor but it brings fresh air and life in your home.
Having an outdoor living space can also be a great chance to show your creativity.  You can choose to use recycled furniture to beautify the space,  an old furniture can be a fresh garden decor.
Choose plants that are low in water demand. You can enjoy nature's beauty by choosing low water plants or less water plants.  If your a busy person and you wanted to keep your outdoor garden beautiful all year round, you can choose mediterranean plants like Echeveria and New Zealand flax to fill your green garden or if you want to smell the fragrance of flowers and have a view of colorful blossoms and foliage, you can plant flowering xeric plants such as Lavender, Penstemon and Agastache, which is the best choice, it  replenish nature's resources and provide food and shelter for nature's creatures.  Main key to water conservation is selecting low-maintenance trees, shrubs, and flowers for your green garden.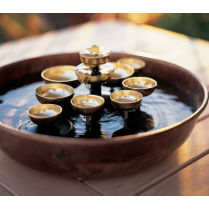 You can choose sustainable furniture decor for your green outdoor living, considering that your into water conservation, you can still have a beautiful fountain, this fountain was designed by professional percussionist and instrument designer Garry Kvistad, this tranquil Waterbell Fountain beautifully combines the relaxing sound of flowing water and the soothing, peaceful chiming of brass bells. Visually pleasing as two floating bells softly chime against a center of stationary bells as they are swept around the fountain by an underwater current. It's a perfect addition for your outdoor living space.
Whatever eco-friendly outdoor furniture you will choose will surely makes your green garden a wonderful place to relax and enjoy the beauty of nature.