Plastic bottles jut like plastic bag  have been a major problem of many landfills and composition posts today. Because of the rising demands of helping our environment and keeping it safe for everybody. Many companies and even institutions are creating innovative ideas on how to recycle empty plastic bottles and it's really incredible to know the many uses of empty plastic bottles i have found.
But before anything else, i would like to share with you this very simple office idea made out of softdrinks bottle.  They do look fantastic, don't you think?  (and there's a chili too which was well loved by many Bicolanos)
Here are the other stuffs you can create on your empty plastic bottle.  Some are really silly (i thought so) other are really useful and bunch of them are fantastic.  You could try recreating them and see the endless possibility.  With this is the thought that  you could also in your own way help preserve our environment.
A plastic pouch.  Just a zipper, a glue gun(glue stick ) you can instantly make a plastic pouch in  a minute.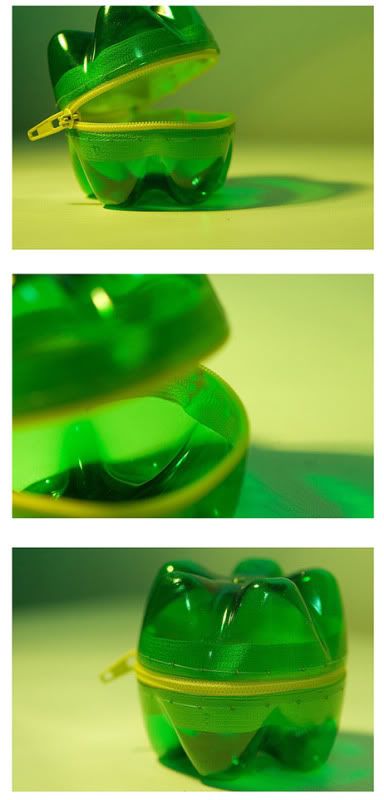 Houses made from plastic
A house made out of plastic bottles.  (how cool would it be?) Tomislav Radovanovic, a  professor of mathematics from the central Serbian town of Kragujevac, had made this into reality.  He created a house with an area of 60sq meters and this was done for five years.  (What a rigorous work )  Radovanovic use plastic bottles as the majority of the construction.
A resto wall
Morimoto Restaurant at New York City creates a beautiful water bottle wall composed of 17,400 half liter plastic bottles filled with mineral water and then backlit with LED lights.
I have always prefer to drink sprite rather than coke. Not because of the silly idea that it is less in caffeine but i just want it)  What do you think of a recycled sprite bottles for a Christmas Tree? This was indeed a brilliant idea and really beautiful too. In Kaunas, Lithuania , Jolanta Smidtienė created a beautiful Christmas tree with 32,000 thousand  'SPRITE' plastic bottles with a  40,000 Christmas lights.  (if i only knew this, i would have donated my sprite bottle to him 🙂
This Head Gardeners adds a beautiful wildlife impression on one of the City of London.  A creation by Anna Garforth, an artist, illustrator and self proclaimed "green graffiti artist extraordinaire."
 Plastic Jewelry
Plastic jewelry
Kumvana Gomani is just one of the many designer who created beautiful pieces of jewelry out of recycled empty plastic bottle.
Equipped with a degree in industrial design, she provides product innovation to her clients.
Nature and ice-pattern are her design for this beautiful accessories. She cleans, cuts, and then snips the washed plastic material into tiny snow flakes and leaf shapes that are then drilled with holes for their loops, hooks, or necklace chains.
A perfect for daily use and even a creative addition for a night event.
Do you have a particular idea on how to recycle an empty plastic bottle?  Share them with us and let's begin a green innovation 🙂