There are lots of ways to go green even at work.  Having a greener workplace meaning a higher ecological footprint and a healthier and more productive environment.  It's not very hard to go green but sometimes we tend to forget and just ignore it because we are not the one paying for the dues or sometimes we are just careless.  Knowing how to go green at work is a very big deal for our environment.  Let us all start within ourselves.
Start the attitude of going green and let's make an eco-friendly earth.  The work begins with you.  Be empowered, you don't need the management to tell you to change or to help your office to go green.  You can do it because you care.
Conserve computer energy –  Because of the great demand of the digital age, we used computer for a long period of time.  Set your computer to energy saving and make sure to shut them when you leave.    Your monitor/display can be set to sleep or  Turn off after 15 minutes or less or system standby or sleep when not in use.  Make sure to off your printer or scanner when not in use.  Unplug power adapter when not in use.  Unplug battery when the charging is already finished.  You can also use laptop because it's consume around 50 watts of energy while in use compared to a computer and monitor, which consumes around 270 watts of energy.
For printing –  try not to used color ink if possible.  When you are just making a draft, make sure to use a recycled paper and use the double side to maximize the use of paper.  (at our office, we use brown paper for all the draft and we only use the white coupon bonds when it's the final work.
Recycle ink and cartridge. (Don't just throw them away, you can sell them in some shops who buy cartridges)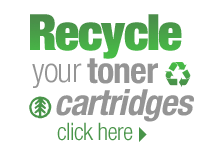 Don't be a paper pusher.  Is it necessary to print what's in your e-mail? Make it necessary to go paperless if it's really possible to do so and if you have no choice but to print everything.  Make sure to use recycled and chlorine free paper.  Save and re-use old boxes and use old sheet of paper as scratch or for note-taking.  You can also use Pens and pencils that are made from recycled materials, and refillable pens and markers are  more  preferable than the  disposable ones. Use notebooks that are also comes from recycled materials.
Recycle –  If you can't avoid using plastic in your work.  You can also recycle them to avoid buying them over and over again.
Go green with the energy –  Instead of using light bulbs, you can use compact fluorescent lamps.  Turn off all the lights and electric fans before you go home.
Greening your Lunch Time – you can bring your own food at work using your reusable containers.  It is less expensive and you will be able to save a great deal of money  and you also minimize the use of plastic from ordering from carinderia or fast food.  Use plates and glasses that is re-usable or can be wash.   You can also eat organic foods thus helping you to be healthy and gear towards green living.
Green your desk .  Get an indoor plant.  Having a plant beside you brings productivity, cleaning your air , absorbs air pollution and increase the flow of oxygen thus helping you breath a more fresher air.
Work from Home –  It's a way to save many things  but this is only applicable if your a businessman or working online.
Go green in transportation –  if you can walk, go walk.  It can save you more but if you are using your own transportation, you might try to commute, take a public transportation once in a week, it can help reduce the carbon dioxide coming from your car.  Business travelling can also cost a tons of money and stress too,  if you can just use telecommunications to deal with clients.  Do so!
Start on your own! Spread the word.  Be an example for everyone and others will follow.   Share your green living ideas now! I hope you get some ideas on ways to go green at work.
Want to grab it, check it out HERE! and don't forget to leave some precious comments and enjoy visiting other green living entry.