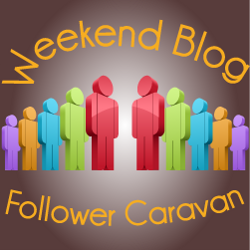 This week Weekend Blog Follower Caravan hosted by PMC is a different one and helps one site  to get more exposure and new friends.  It is also an opportunity to let the other bloggers know about the author behind the blog!
Get to know me Better:
I'm from Naga City, Camarines Sur,  a wife and a mother to one beautiful daughter and patiently waiting for our new baby boy to come before this end of March.  I love to cook and eat. I like to read books and collect just anything.  I love weddings, adventures, music, sea, park, and wanting to be an advocate of Green Living on my own capacity. I am a person of unpredictable characteristics, stubborn yet soft hearted, active yet demure.
I believe that some of you already knew me that much although we have not seen each other yet and to those who don't know me yet!
To those who didn't know me:
I am Romarianne (Yes, that's my full name)
some of you know me as melandria –
because that's what you can see in almost all my post
melandria is the name of my baby – it's a combination of
hubby's nickname (mel) and my nickname (ria)
(mel-and-ria)
I was born Romarianne Belarmino Rosaura in a small barrio of Magsaysay, Sta Fe. Romblon at the time Pope John Paul II is visiting Manila.  I was brought by my mother in Manila when I was three months old and was reared by my grand mother Romana  on which my name was taken by my father.
I love reading books and collect just anything!
I am happily married, Yes, he's not the man of my dreams nor a perfect man  but i could not find anyone who could understand and care for me more than my la-lavs.
After seven years of waiting and two miscarriage, our Peachy (Prosperity Melandria) was born
Before I have learned about blogging I was totally addicted to Facebook (LOL). You can read my posts here:  Signs that your a facebook addict:
If you don't see me online, it's because I'm busy with my day time work as a Court Stenographer.
My family is my life, my world,  my hope and inspiration.

I love joining contests and winning freebies too!
in my own simple way, i would like to promote ways and Spread the Green Living Ideas that's why I decided to create this site and started Monday Green Meme.
and most of all, I do love meeting new people and earning friends… That's why, I am always looking forward in your next visit!
you can visit me here too:
Or be my friend in facebook